Kakamega County Referral Hospital
Kakamega County CEC for Health Services Penina Mukabane has allayed fears that Kakamega County Referral Hospital is in a crisis following the recent visit by the County's First Lady Mrs. Priscilla Oparanya where a section of media flashed photos of some patients lying on the floor as others shared a bed.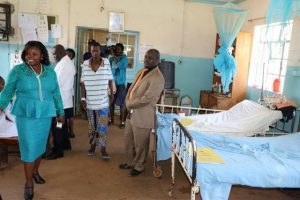 Speaking at the Hospital, Mrs. Mukabane noted with concern that during her weekly visits at the hospital and other health facilities within the County, she has not encountered cases of patients lying on the floor. Mrs. Mukabane reiterated the County government's commitment to streamline the health sector especially the County Referral Hospital. She added that the facility is now attending to patients as far as from Siaya, Busia and the rest of the Western region. This, she said, emanates from the county government's acquisition of vital machines which are only found at the Kakamega County Referral Hospital-within the region. Mrs. Mukabane however encouraged the massive number of patients from within the county seeking health services at the CGH to maximise similar services offered at Subcounties Level 4 Hospitals. To date, CGH has operationalised 2 theater rooms, a Radiology unit, a fully functional Renal unit, an Intensive Care Unit that is at the completion stage and improved referral services, all which have made the facility attract big numbers of patients.