CECM
CHIEF OFFICERS
FUNCTIONS OF THE DEPARTMENT
SERVICE MATRIX
MKATABA WA KUHUDUMU
DOWNLOADS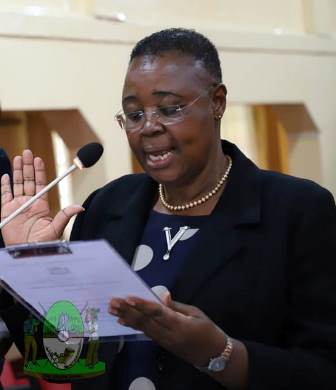 MS RACHEL C.  ATAMBA
CEC MEMBER ICT, e-GOVERNMENT AND COMMNUNICATION
The department has two Chief Officers
Phanuel Musasia - Chief Officer ICT & e-Government
Joseph Lutilo - Chief Communication
VISION
To be a leading county in the provision of ICT, e-government and communication services in Kenya.
Mission
To enable the county deliver quality services to its citizens through innovative application of technology.
Mandate
To design, develop and implement ICT, e-Government and communication systems with a view to improving efficiency in service delivery.
Core VALUES:
A - Accountability
T - Timeliness and Transparency
P - Professionalism
I - Integrity, Innovation and Inclusivity
C - Customer focus
Core Functions
Formulate, interpret, implement and review ICT, e-Government and communication policies, strategic plans, guidelines and standards;
Advise the County Government on matters related to ICT, e-Government and communication;
Enhance access to government services through ICT, e-Government and communication;
Improve interaction with stakeholders;
Promote innovation and entrepreneurship through ICT;
Establish, develop , maintain and promote use of ICT infrastructure and systems;
COMMITMENTS
High integrity and security of County data and information;
Transparency and accountability;
Uphold service level agreements with clients and stakeholders;
Reliable and efficient ICT infrastructure and systems Promotion of partnership with other stakeholders.
Automation of county services
Obligation of our clients
In order to offer quality services, our clients have an obligation to:
Familiarize themselves with policies, regulations and guidelines in regard to services offered;
Provide complete and accurate information on services required
Rights of our clients
Our clients have a right to:
Quality and timely services
Courtesy and respect
Information
Lodge complaints
We encourage our clients to give us feedback on services rendered to enable us improve on quality of our service delivery.
SERVICE DELIVERY MATRIX
S/N
SERVICE
REQUIREMENTS
COST
TIMELINE
1.
Customer Enquiries
·         Identification (ID/Passport/Driving License, Tel. No)

·         Registration

Free
Within 5 minutes
2.
Acknowledgement of customer complaints
Report of the complaint
Free
Within a day
3.
Resolution of  customer complaints
Record of the complaint
Free
Within 7 days
4.
ICT and communication equipment service and maintenance
·         Preparation of equipment maintenance schedule

·         SLAs with vendors

Free/cost of equipment replacements
Quarterly
5.
ICT and communication equipment

Repair

Generate a ticket/ request;

Budget availability

Equipment cost
Within 3 days.
6.
Preparation of specifications of ICT and communication equipment
Written approved request;

Free
Within 2 days.
7.
Request for new e–mail access accounts;
Written request;

Call from user;

Log on the help desk;

Free
Within 30 minutes
8.
Uploading of documents on the website
Approved request;

An email;

Log on the help desk;

Soft copy of the document

Free
Within a day
9.
User Support

Requests

-      Written request;

-      Call or text message;

-      Log on the help desk

Free
Within 30 minutes
10.
User training

- Approved request

- Facilitation of training

Free
Within two (2)

weeks from time of

receipt of request

11.
Enhance access to information from the County Government to the public
Approved requests

Free
Within 24 hours
JAMHURI YA KENYA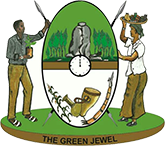 SERIKALI YA GATUZI LA KAKAMEGA 
WIZARA YA TEKNOLOJIA, SERIKALI YA KIELEKTRONIKI NA MAWASILIANO
MALENGO
Kuwa gatuzi linaloongoza katika huduma ya kiteknolojia, kielektroniki na mawasiliano kote nchini.
MAONO
Kuwezesha gatuzi kutoa hudumu bora kwa wananchi wake kupitia mifumo ya uvumbuzi wa kiteknolojia
MaMLAKA
Kubuni, kuunda na kutekeleza mifumo ya kiteknolojia, elektroniki na mawasiliano iliyo na dhamira ya kuboresha utoaji hudumu.
maadili ya kimsingi:
Uajibikaji
Huduma katika muda mwafaka na Uwazi
Utaaluma
Uadilifu, Uvumbuzi na Ujumuishaji
Malengo kwa Wateja
MAJUKUMU YA KIMSINGI
Kubuni, kufasiri, kutekeleza na kufanya mapitio katika kanuni, mielekeo na viwango katika teknolojia, elektroniki na mawasiliano;
Kutoa ushauri kwa serikali ya ugatuzi kuhusu maswala yanayojihusha na teknolojia, elektroniki na mawasiliano;
Kuwezesha upatikanaji wa huduma za serikali kupitia teknolojia, elektroniki na mawasiliano;
Kuimarisha utangamano na washikadau;
Kukuza uvumbuzi na biashara kupitia teknolojia;
Kuanzisha, kuendeleza, kutunza na kuimarisha matumizi ya miundo-misingi na mifumo ya kiteknolojia;
AHADI
Uadilifu na uhifadhi data na habari za kaunti katika usiri wa kiusalama;
Uwazi na uwajibikaji;
Kushikilia kiwango cha juu cha maelewano na wateja na washikadau;
Miundo-misingi na mifumo tegemezi na bora ya kiteknolojia yenye kukuza ushirikiano na washikadau wengine;
Matumizi mema ya mitambo inayojiendesha ya kaunti kutoa huduma
WAJIBU WA WATEJA WETU
Ili kuafikia utoaji wa huduma bora, wateja wetu wana wajibu wa;
Kujifahamisha na sera, kanuni na miongozo inayohusiana na huduma tuzitoazo;
Kutoa habari kamilifu na sahihi kuhusu hudumu inayohitajika;
haki ya wateja wetu
Wateja wetu wana haki ya kupata:
Huduma bora na kwa wakati mwafaka
Heshima na taadhima
Habari
Kutoa tetesi
Tunawahimiza wateja wetu kurejesha majibu kuhusu huduma tuitoayo ili kutuwezesha kuiboresha zaidi
HUDUMA KATIKA JEDWALI
NA.
HUDUMU
MAHITAJI
GHARAMA
MUDA
1.
Maulizio ya wateja
Kujitambulisha

Bila malipo
Ndani ya kipindi cha dakika 5
2.
Majibu kwa tetesi za wateja

Ripoti ya mlalamishi
Bila malipo
Ndani ya kipindi cha siku 1
3.
Marekebisho ya vifaa vya teknolojia na mawasiliano
·         Ratiba ya maandalizi ya ukarabati wa mitambo

·         SLAs na wanunuzi

Bila malipo/gharama ya mitambo ya ukarabati
Kila baada ya robo ya mwaka
4.
Ukarabati wa vifaa vya teknolojia na mawasiliano
Andaa tiketi/ ombi

Uwepo wa makadirio ya bajeti

Gharama ya mitambo
Ndani ya kipindi cha siku 5
5.
Maandalizi ya vifaa mahsusi vya teknolojia na mawasiliano

Ombi la maandishi liloidhinishwa

Bila malipo
Ndani ya kipindi cha siku 2.
6.
Ombi la ufunguzi wa baruapepe mpya;
Ombi andishi;

Simu kutoka kwa mtumizi;

Rekodi ya mtandao katika dawati la hisani;

Bila malipo
Ndani ya dakika 30
7.
Kuweka habari kwenye tuvuti
Ombi lililoidhishwa

Simu kwa mtumizi

Rekodi ya mtandao katika dawati la hisani;

Mfumo wa mitandao wa stakabadhi

Bila malipo
Ndani ya siku 1
8.
Ombi saidizi la mtumizi

-      Ombi andishi;

-      Kukiriza simu ama arafa;

-      Rekodi ya mtandao katika dawati la hisani;

Bila malipo
Ndani ya dakika 30
9.
Mafunzo saidizi ya mtumizi
Ombi lililoidhishwa

Uwezeshaji wa mafunzo

Bila malipo
Ndani ya majuma 2 kutoka siku ya mapokezi ya ombi
10.
Kuwesha upatikanaji wa habari kutoka kwa serikali ya kaunti hadi kwa umma

Maombi yaliyoidhinishwa

Bila malipo
Ndani ya siku 24