Kakamega County shapes her road network
Kakamega County Government has embarked to constructing roads stretching to upto10km per ward, totaling to 600km in the entire county this financial year. H.E Hon. Governor Wycliffe Ambetsa Oparanya today launched the 10km ward-based road projects in; Lurambi Sub-County (6 Wards: 60km), Ikolomani Sub-County (4 Wards: 40km) and Shinyalu Sub-County (6 Wards: 60km). The Governor was accompanied by H.E the Deputy Governor Hon. Prof. Philip Kutima, Cabinet Members, Hon. MCA's among other dignitaries.
Bellow are the roads H.E the Governor launched in three Wards of the mentioned Sub-Counties where work commenced immediately.
1. Butsotso South Ward:- LURAMBI
i. Mumbatsiani-Eshiandukusi-Eshirumba Pr. Road (4km)
ii. Emuraka-Eshibeye Pr.-Wasembe Junction (4km)
iii. Luyia Church-Eshilibo Pr. (2km)
2. Idakho North:- IKOLOMANI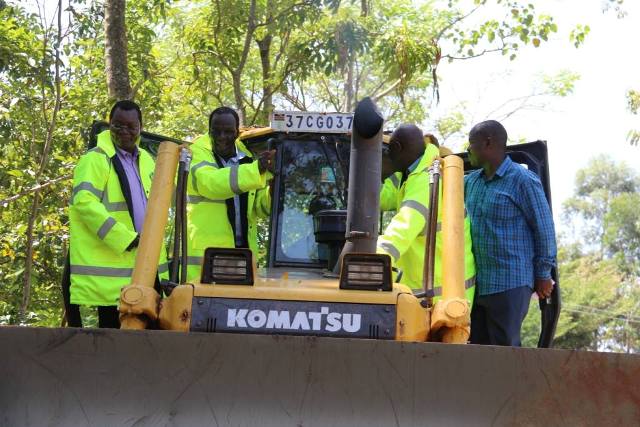 i. Malaika Police-Musiukhu (.5km)
ii. Siseso-Ichina (2km)
iii. Isulu mkt-Shisere Pr. (2km)
iv. Mutaho junction-Wa Benjamin (2km)
v. Ibwali Pr.-Muchenje junction (2km)
vi. Mutaho Pr.-Wa Andambi (.5km)
vii. Imulembo Pr.Imasherero Junction (2km)
viii. Simanyiro Market-Imulama Pr. (2.4km)
3. Murhanda Ward :- SHINYALU
i. Lirhanda Marko-Lukala Church (2.7km)
ii. Lirhanda Bana-Ganira (1.7km)
iii. Navangala-Shiyoya (2.7km)
iv. Khamala River-Imanuna (2.4km)
v. Mulundu-Itenyi-Lukala Church (1.3km)
The Governor's program to commission ward-based roads in all the remaining wards in Kakamega County is ongoing.