County Government of Kakamega Garners awards for promoting Agriculture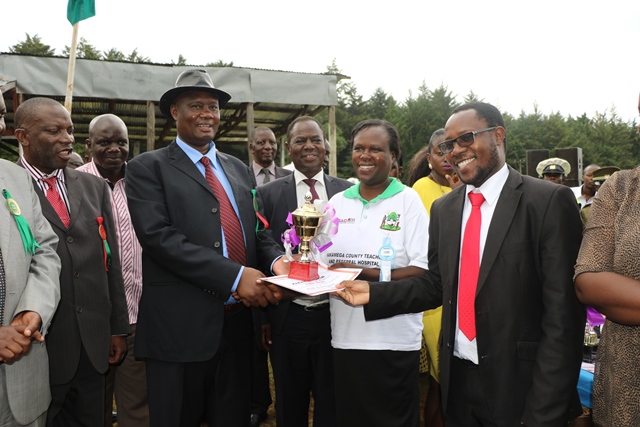 County Government of Kakamega has been hailed for championing Agricultural innovations in the Western region during this year's Agricultural Society of Kenya (ASK) celebrations held at the Kakamega Showground. This year's theme was Enhancing Technology in Agriculture for the food security and National Growth.
The Ministry of Public Service and Administration received the Third best large Government stand award as well as being the first in the overall county stand. Ministry of Agriculture, Livestock, Fisheries & Cooperatives emerged the best large government with its sister Ministry of Health services emerging top in Best display and services in the health sector and pharmaceutical stand.
Busia County Governor H.E, Hon. Sospeter Ojaamong applauded the efforts the County governments have put in place to expand agriculture which is a food security guarantee through rolling out programs and projects that are beneficial to the farmers.
Governor Ojaamong commended the County Government of Kakamega for its efforts in boosting food security in the region through highlighting its major strides in Agriculture. "County Governments have subsidized the seeds to ensure more farmers' access quality seeds hence improved production levels. Kakamega County has for instance, distributed 376.6metric tones of fertilizer. It has further addressed the high cost of land preparation by providing tractor hire services at a cost price of Ksh.2000/- per acre." he added.
A.S.K Deputy National Chairperson Mr.Charles Owelle appreciated both the public and private exhibitors from within and neighboring counties for showcasing their products and services. He further applauded innovations made and displayed by the youth and commended the large numbers of young people who have embraced self-employment.
CECM Ministry of Agriculture, Livestock, and Fisheries& Cooperatives Mr. Kulati Wangia congratulated the industry leaders for giving the community a platform to network in business.  He further encouraged the farmers to apply new technologies in agriculture to increase productivity.