GOVERNOR OPARANYA APPOINTS NEW GOVERNMENT OFFICERS
Kakamega County Governor H.E Hon.Wycliffe Ambetsa Oparanya today witnessed the swearing-in ceremony of CPA Geoffrey Nafukho Omulayi, Mrs. Frandina Khavere Machwenu and Eng. Philip Otenyo who immediately assumed office as CEC Treasury, CO Livestock Production, Veterinary Services and Fisheries in the County Ministry of Agriculture Livestock Production, Veterinary Services, Fisheries and Cooperatives and CO Special Programs in the County Ministry of Transport, Infrastructure, Public Works and Energy respectively.
CPA Omulayi brings to the county government a rich experience in public service having worked as Principal Lecturer and Head of Department at Kenya School of Government in Mombasa before moving to Kenya School of Government Embu as Deputy Director of Finance and Administration and later, Acting Director for the institution, a position he served for two years until his appointment as CEC Member Treasury for the County Government of Kakamega. Omulayi hails from Matungu Sub-County.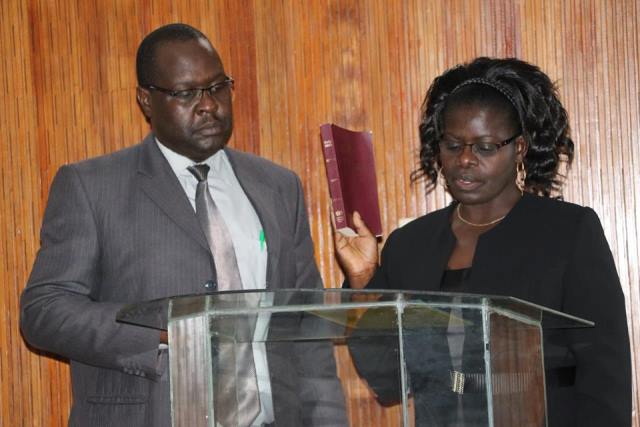 Mrs. Frandina Khavere Machwenu brings to the government over 21 years working experience in the public sector having first been engaged as a Livestock Production Officer in Mombasa before moving to Mumias a year later as Divisional Livestock Extension Officer then in Malava as Divisional Livestock Extension Coordinator before being promoted to the position of Livestock Extension and Production Officer in charge of Lugari District. Mrs. Machwenu later moved to Malava in the same capacity before joining the county government as County Dairy Development Officer till her appointment as Chief Officer. Mrs. Machwenu comes from Likuyani Sub-County.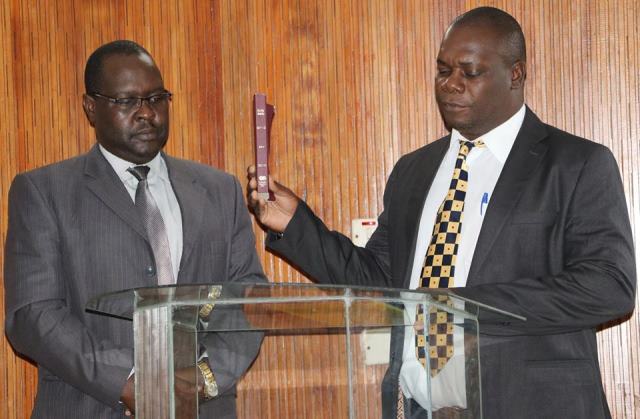 Engineer Philip Otenyo Makonjio has worked as a Consulting Engineer before joining Butere-Mumias County Council as a Works Officer and Engineer before joining Kakamega County Council as Works Officer II Engineer which position he held up to 2013 when he was deployed as Acting Chief Officer in the County Ministry of Transport, Infrastructure, Public Works and Energy. Till his latest appointment, Eng. Otenyo was Head of Mechanical and Transport Fund. Engineer Otenyo comes from Khwisero Sub-County.
The current CEC for Water, Environment and Natural Resources John Robert Sumbi was also appointed in Acting Position as CEC Member for Social Services, Youth and Sports.
Governor Oparanya congratulated the officers for their new appointments and announced his confidence in the officers as they immediately assumed their offices. The Governor said with the vast training and experience held by the sworn-in officers, the public expectations are even higher thus urged the servants to observe the constitution and other legal acts in the management of public resources and mwananchi.