KAKAMEGA TEACHING AND REFERRAL HOSPITAL CONSTRUCTION LAUNCHED.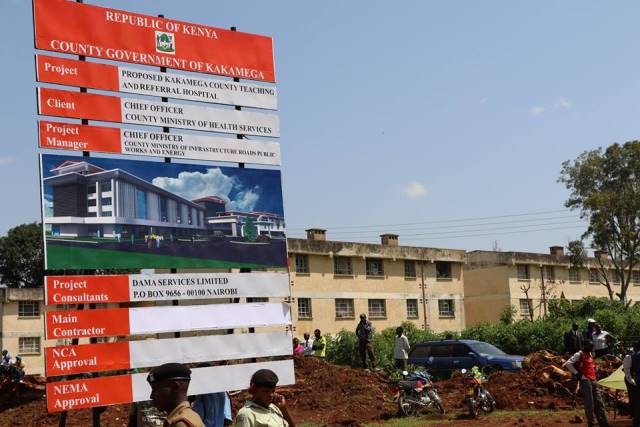 Kakamega County has gone down to books as the first county government in the country to launch a mega project in the health sector after groundbreaking for construction of the Kakamega Teaching and Referral Hospital (KT&RH).
Kakamega County Governor H.E Hon.Wycliffe Ambetsa Oparanya led residents in a colorful ceremony witnessed by leaders from across the nation. Speaking during the function, Governor Oparanya pointed out the need to have the facility in Kakamega County as it had a big population that cannot be dependent on the level 4 hospitals. The mega project which will be constructed in three phases-a period of three years-at a cost of 6 billion shillings will lie on a 10 acre land, 1 acre shy of the current General Hospital. The teaching and referral hospital will offer its services hand in hand with the current facility and will focus on specialized treatment to patients as well as offering training for the upcoming Masinde Muliro University Medical School and other medical training institutions in the county.
Governor Oparanya outlined the strides his government has made in health sector since inception of devolution both in infrastructure and human resource. He further directed that all sub-county hospitals will be elevated to level 4 as well as equipping them with the necessary infrastructure and human resource.
Kisumu County Governor and the Council of Governors Health Committee Chairman, H.E, Hon. Jack Ranguma, hailed the project terming it a massive development in the health sector for the entire Western Region. Governor Ranguma however expressed his concerns on the way the national government was releasing its funds to the counties. "Kakamega is the first county in the entire nation to come up with such a facility. It will help fight these mushrooming communicable diseases for the entire region including to my own people of Kisumu County." He announced that the health sector has since improved country wide through provision of better services, equipping health facilities in the counties, human resource through employment of doctors and nurses among others. Governor Ranguma added that the Council of Governors recommended that all counties allocate 25-40% of their annual budgets to the health sector something which has so far seen the light of the day in most counties.
Bomet County Governor and former Council of Governors Chairman, H.E, Hon. Isaac Ruto said the national government should share resources equitably and ensure enough cash is disbursed to counties to facilitate growth and development especially in Roads, Health, Agriculture, Education and Water sectors among others since they are essential for economic growth in the country. Governor Ruto added that the referral hospital will create employment to people country wide by attracting specialties in different areas.
Other leaders who were in attendance and echoed these sentiments were Vihiga County Deputy Governor Hon. Caleb Amasweche and Busia County Governor H.E Hon. Sospeter Ojaamong. The latter called on Kakamega County residents to support Governor Wycliffe Oparanya fully as he was a development minded leader who commands respect across the entire political divide in the country.
CECM for Health Services Penina Mukabane, explained that the hospital will enhance patient management and research in health. She added that the KT&RH will provide high medical care to complex diseases especially cancer, diabetes which is on the rise as well as leading to development in new technologies and enhance diagnostic treatment.
Other leaders who addressed the gathering included Kakamega County Deputy Governor H.E Prof. Philip Kutima, Masinde Muliro University of Science and Technology Vice Chancellor Prof. Fredrick Otieno, Health Services Chief Officer Dr. Brenda Makokha among others.