KAKAMEGA COUNTY TAKES BULLFIGHTING TO INTERNATIONAL ARENA
The County Government of Kakamega is now set to market Bullfighting at the world market. Speaking today at former airstrip grounds near Kakamega County General Hospital during a county government sponsored bullfight, County Executive Member for Trade, Industrialization and Tourism Elsie Muhanda said the government has put in place programs that will see tourists, both local and foreign, flock to Kakamega to enjoy the most celebrated Luhya Culture and Sport. Mrs. Muhanda announced the government's plan to have bulls from the county entertain people at national and international events both in Kenya and across the border.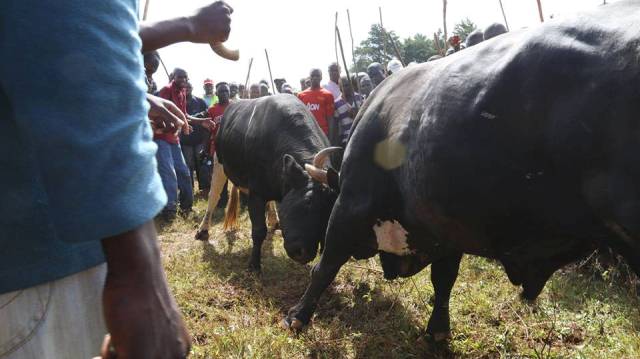 Mrs. Muhanda, while presenting Kakamega Governor's Message said Hon. Wycliffe Ambetsa Oparanya will soon be supplementing 40 owners of bulls that participate in county cultural sport with heifers in the second phase of the One-Cow Initiative Program to enable them sustain themselves and their animals.
In today's fight, the winner, Nzeku of Elisha Boda took home Kshs.20,000 after beating Simba of Pipo Likhanga in a fierce battle that lasted 30 minutes. Simba was rewarded Kshs.15,000. The 2nd Runners-up Isese of Alfred Buhuru beat Osama of Benard Kaitano to collect Kshs.5,000.
Tables were turned upside down when Okambo of Swati wrestled down the famous Maspana of Ben Mululu in the longest fight witnessed today. Owners of other bulls that fought today were also rewarded.
In attendance were Hon. MCAs Richard Muchesia (Isukha Central), Herbert Sore (Isukha South) and Joe Serenge (Shirere), KNUT Chairman Kakamega County Patrick Chungani, KNUT Secretary Kakamega County Archedius Liyayi, Businessman Stanely Livondo among other guests.